The Imperial War Museums (IWM) hold their paper-based collections between the South London museum in Lambeth and their buildings at RAF Duxford.
They hold 11million photos, 33,000 recordings and 800,000 items.
The reality of this approach is that items need to be ordered in to the Lambeth site for viewing, with a 5-working-day turnaround.
The care of the items comes first, no doubt. But, the experience is noticeably different - and in some ways challenging - for the multiple site system.
The IWM database of items is quite straightforward to search through. However, some searches inevitably bring back hundreds - even thousands - of results, many of which only include a description, rather than an image.
Further limitations are put upon the researcher with a 10-item limit.
Find your items through the online search, list them for your appointment, cross fingers that they are what you are hoping for!
I presume it is a reasonably effective system for the IWM and their vast collection. And what an amazing effort it is. But, I still find it to be a little cold and somewhat discouraging system. Given the subject - war, conflict, generational sacrifice, solidarity - that system seems a little at odds with the energy held within it. An energy that the photographs that are included online begin to release. 
It may well be my own relative newness to archives and my relative lack of knowledge about the IWM collection.
On the plus side, the images that I come across seem to break the ice for me - I am drawn in by WAAF posters and photos - and I slowly warm to the task of online searching. Even better, high resolution images can be downloaded for use - no need to travel to Lambeth to scan or photograph. Of course, the upside is also the downside with another example of how the digital world can create connections and simultaneously create isolation.
Bear in mind this is all purely the perspective of someone coming to an archive for the first time and I am making an effort to capture my experience almost as I have it - hence the ups and downs....
The human interaction at all of the other archives I am working within, is important. That this interaction is often so close to the beginning of the process is meaningful to me. It is welcoming. In two of the archives so far, the process of exploration has been quite open, with few limits beyond closing time and a ban on pens and food and drinks.
The ability to take jumps to other places within an archive depending on what you encounter, whilst it may be a bit haphazard - or even procrastination! - is, for me, a more joyful or natural experience for it.
Putting that to one side, what a collection the IWM is. My orders are in, my appointment is set, I look forward to meeting the archive and the people who look after it.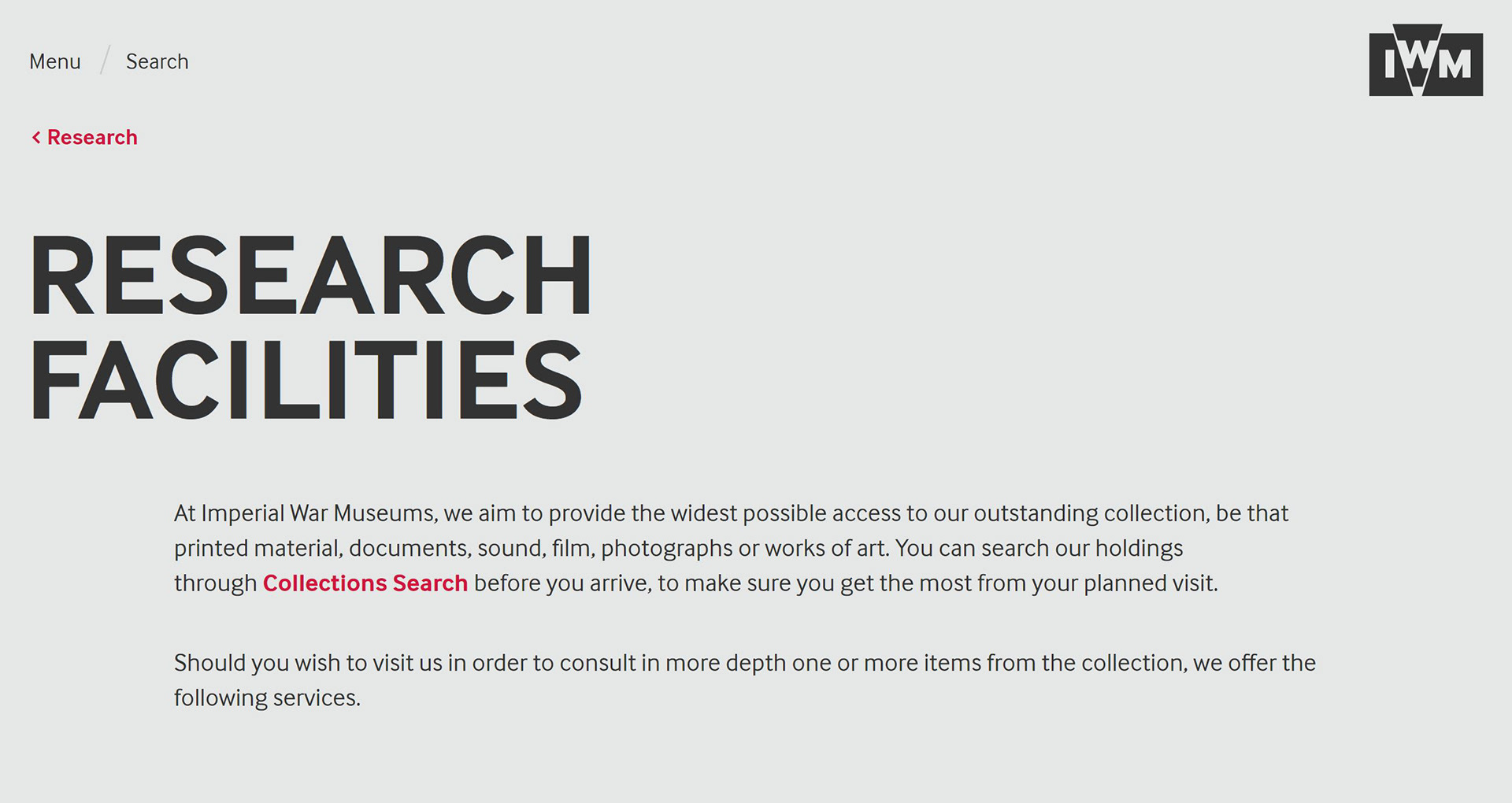 I journey to South London to visit the Imperial War Museum (IWM) and look through a small pile of documents I hope will provide a window into the life of Lilian Bader.
The IWM has been through a recent renovation that has created a modern space with a strong but odd personality. The big guns that have dominated the entrance outside the building since 1968, have now been joined by airplanes, rockets, boats, jeeps and tanks that carry that big bold statement inside, plonked in your way like huge childrens toys or hung like baubles, from wires or through walls throughout the 5-floor atrium. It makes me want to reach out and grab them...but, a photo will do. 
Like those big guns outside, it is an impressive, if childlike presentation of things that are designed for death, coercing you to get your camera out to capture the welcome as soon as you walk in. On reflection, it is strange to remember these weapons of war as if they were innocently designed toys that we should appreciate for their aesthetic beauty - and there is beauty in the way they have been presented - rather than for their efficiency in supporting operations of mass death.
It is a conflict I feel, similar to that which accompanies the Lilian Bader artwork. The knowledge it has brought me - the knowledge of so many men and women of African roots who have been drafted over and over again into the armed forces of those nations who tore their ancestors from their African homelands.
Armed forces have acted as another modern day passage for African and Caribbean people, back and forth across the seas.
I find the Research Room, with a bit of difficulty, located around a corner or two, nestled behind some lockers down a short, dimly lit corridor. I am almost expecting some musty, wood-panelled, leather-bound repository! 
But no, it is a bright and well used modern space (I have been impressed with how many people are engaging with history in most of these spaces). Most of the smooth, shiny,  white desk spaces are taken up by other visitors.
I am handed my small pile and I love to see the photos up close, of Lilian in her uniform, her wedding day with Ramsay and her fellow service women and men in the class photo pose.
Reading Lilian's memoirs is a reminder that we should all leave this life having provided a brief rundown of our time on earth!
The WAAF handbook is a classic. Filled with photos and language that place it perfectly in  its era.

I have mixed up the visit dates for one of the items I hope to see. It is a tapestry only available to view by special appointment and the curator responsible is nowhere to be found. 
The positive outcome is that I get the full attention of another member of IWM staff, who gives me a half hour guide through the online catalogue in search of all things related to 'Sea'. We discover a picture of Hull that I will make use of in the final artwork.
It makes up for the lack of interaction at the start of the IWM process.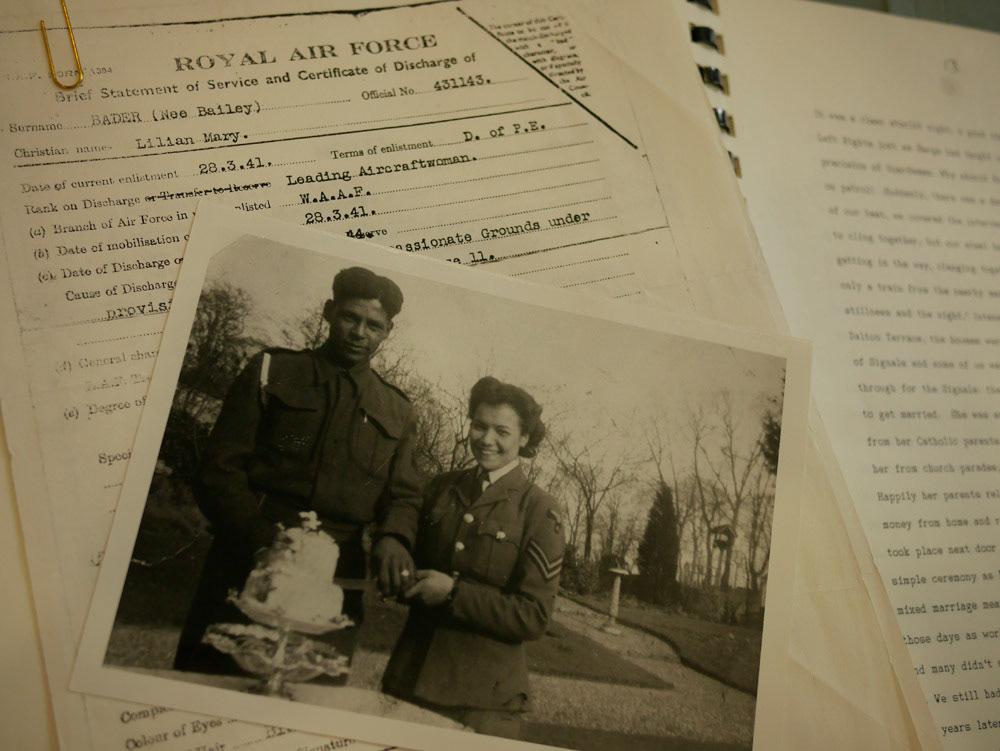 A few weeks later I return to the IWM and climb some winding stairs at the very top of the old building (hidden so effectively by the uber-modern refurbishment). I enter a very distinctive room that meets my wood-panelled and leather-bound expectations and view the tapestry. 
One of the museum's curators describes the piece:
"I think it is an embroidery kit that was sent out to service personnel and possibly civilians as well. My impression is that she probably made it up from that. It came with the documents and photographs that you've seen. It was probably done whilst she was serving, a lot of people did work on them across the services."